If you like the taste of fresh acids, you can try this Indian-style noodles. Soft chewy noodles mixed with the sour taste of fresh tomatoes and shrimp were crispy and tasty. It will be more fun to be eaten warm with pickled cucumber or pineapple.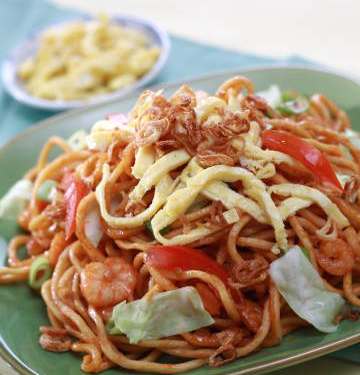 Tomato Noodles Recipe (Syahroni/detikfood)

Ingredients:
2 tablespoons vegetable oil
50 g onions, sliced
2 cloves garlic, minced
1 red tomatoes, thinly sliced
1 stalk spring onion, sliced
3 tablespoons bottled tomato sauce
1 tablespoon bottled chili sauce
1 tbsp soy sauce
150 ml of water
½ teaspoon pepper
½ tsp sugar
1 tsp salt
500 g Hokkien noodles, rinse in hot water, drained
75 g leaves of cabbage, sliced
Topping:
– Egg omelette
– Fried shallots
How to make:
Saute onion and garlic until wilted and fragrant.
Add tomatoes and green onions, stirring until wilted.
Enter the seasoning and water, bring to a boil.
Enter noodles and cabbage, mix well and wilt and dry sauce.
Lift. Serve with a sprinkling of ingredients.
Serve For 4 people :).